When Bottom Lines Meet Sustainable Development: Growing Your Business Through Partnerships
On Tuesday morning, business leaders and international organizations asked a question: how can we build a thriving economy where no one is left behind?
The United Nations Kosovo Team, in collaboration with the American Chamber of Commerce in Kosovo and the USAID EMPOWER project organized the forum 'Growing Your Business through Partnerships' to help answer that question.
The forum gathered more than 35 business representatives as well as the heads of UNDP, UNICEF, UNFPA and UNWOMEN. Other attendees included American Chamber of Commerce and USAID EMPOWER programme and The Partnership Initiative.
The resulting discussion between organizations and businesses reflected the comments of presenter Todd Kirkbride.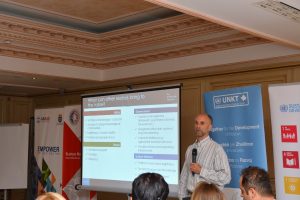 "Today's business and social challenges are too great to be tackled by one institution or one sector," Kirkbride said. He went on to explain that development and economic growth are at their best when local business takes ownership of their area's development, partnering with civil society, government and other businesses to create a thriving society and market.
Attendees showcased the importance of wide-ranging collaboration to meet Kosovo's specific development challenges. Entrepreneurs like Gezim Selimi, Calabria CEO, shared the story of his company's partnership with USAID, municipal government and local farmers to revitalize Kosovo's sour cherry industry.
USAID provided the funding and support to buy cherry trees and train farmers. Meanwhile, Calabria implemented cherry farming operations over 520 hectares of land, caring for trees and ensuring job opportunities for local farmers. Selimi estimates the project will employ roughly 5200 workers.
The project's just beginning, with a projected completion in three years.
"A project ends, a partnership never has to," Kirkbride added as Selimi completed his presentation.
Calabria's success indicated the possibilities of private participation. As United Nations Development Coordinator Andrew Russell noted in his opening statement, saying political stability goes hand in hand with a strong economy that provides goods, services and livelihoods for everyday people.
Russell explained, "every context is different and [each] has its own challenges and opportunities about what our children and grandchildren think about when they think about Kosovo."
The international Sustainable Development Goals (SDGs) set crucial benchmarks that both civil society and private and public sectors can work toward together. As explored in the meeting, the SDGs intersect with business interests. Whether it's clear and simple rules on business practices or a healthy work force, the meeting noted good business often coincided with sustainable development.
Russell referenced a mutually beneficial UN partnership with Coca Cola that contributed to clean water and supported children's well-being — just an example of business' bottom lines meeting global goals.
Lulzim Syla, representing the Metal Industry and Renewable Energy Cluster of Kosovo, concurred. He drew attention to a drought of young Kosovar engineers and called for improved curriculum and education to create a new generation of Kosovar engineers.
The SDGs' rights-based, pro-business and pro-free movement approach could play a vital role in addressing the engineering shortage. Syla hopes to foster international internships and placements to help build new a generation's capabilities, especially in projects like a new power plant that will be opened in coming years.
As the meeting closed, Kosovo and the private sector's sustainable development progress offered an optimistic vision of the region's future. Kosovo in particular has been a valued contributor to the sustainable development process and has benefited from the work of the private sector.
However, the process takes time.
"We need to be [marathon runners]," Syla said. "Not sprinters."