I'm new in the UN system. I started my first internship with the UNDP in Kosovo only three months ago. Often, I'm reminded that I'm still learning the ropes of who's who and what's what at the organization. It has taken a while for it to really feel comfortable. With each hand shake after hand shake, each double-cheeked, or triple-cheeked, kiss, I'm absorbing names and faces. Slowly categorizing everything.
Yet, there is one thing that seems easy to grasp very quickly. It didn't take me long to observe the hierarchy that appears to govern each step of progress within the UN system and the sometimes shortfall of cooperation between agencies. Productivity needs to be watched with a keen eye and signed off on at various turns. Output is slow-moving, often taking longer than initially intended. The collective mentality of how to accomplish tasks seems derived from Sisyphus's eternal struggle with his boulder. Collaboration is deemed necessary, if only you can pass through the obligatory doors of checkpoints. And there are many.  
And this becomes two-fold in a region where every mention of the word Kosovo comes some political sensitivities. This ingrained hierarchy proves to create a system of checks and balances, but often can become a hindrance for feasible change. 
I questioned what was actually being accomplished and how much change I was going to be able to witness, let alone help with, as an intern for only six months in the system. 
However, amid the bureaucracy and red tape that reigns over the UN, some projects have a tangible and important impact on the ground. Once you remove the ladder of overwhelming regulations, change can happen. Aside from the laundry list of meetings to keep each person up to date, papers can be signed and money can be transferred. Underneath this system of international authority, people are effected by actual life-changing programs. 
And change is happening. If albeit slowly.
I have a unique perspective. I float between agencies, offices, and departments, assigned on various different projects. For the last 3 months, I worked predominantly on the Joint Programme on Domestic Violence in Kosovo based in Zveč/çan. I would also spend one or two days a week in the UN Common Premises in Prishtinë/Priština or attending meetings in southern Mitrovica/ë with other agencies. With this point of view, I have been able to experience the hierarchy and slow-moving beast that is the inner belly of the UNDP in Prishtinë/Priština. But I have also been privy to field visits in the north where UNDP's work is being implemented. I leave the trails of red tape and paperwork swirling behind me as I ride with my colleagues into the field.
The effects of our program are tangible. One arm, providing grants to small businesses, is a small, but mighty beast. 
We currently support nine survivors of domestic violence in an array of business endeavors from hair salons, to wood working studios, to accounting offices in the four northern municipalities: northern Mitrovica/ë , Zvečan/Zveçan, Leposavić/q and Zubin Potok. The people supported have completed essential training to develop entrepreneurial skills for a successful business. 
The effects are concrete. They are palpable and substantial. Women and men in the northern municipalities of Kosovo have become economically independent. They are thriving.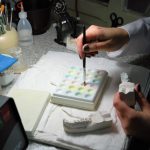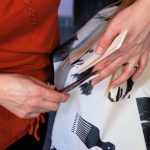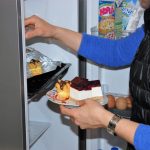 I've visited many of the small businesses we provided grants to, and I could see first-hand how our support is often the catalyst for economic sustainability. And this catalyst has lasting impacts in the community.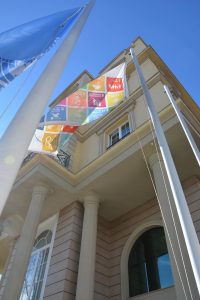 We visited a woman who runs a specialty order bakery for domestic Serbian cakes and sweets. Our grant provided a space for her baking and abled her to purchase necessary equipment. I recently saw her goods on display at a market in the next municipality. This grant allowed her the opportunity to build upon local networks, increasing the success of her business.
Our grants have helped a man open an auto mechanic shop with a friend where they provide car repair and painting services. He proudly showed us the new painting technology he had recently purchased, with a smile on his face.  
These examples are more than just successful businesses. They've grown the community and created support networks. These grants have offered a chance for self-sustaining economic independence, free from abuse. We have given survivors a chance to self-sufficiently forge a new path in their lives.
Our commitment to concrete, on-the-ground change transcends the paperwork and regulations of the UNDP. It goes beyond the elite of the international community and provides opportunity to the everyday men and women the UN is here to primarily support. This locally led development is key. 
And it is working.
Kenzie Anderson
GBV Intern with UN Kosovo Team, 2017