This year's theme choice for Dokufest was corruption. That is an omnipresent problem which can be traced in every culture and in every civilization known to man.
As part of the program panel discussions were organized and many people from region and world participated in. One of them was entitled "Everyday rebellion" and panelist were people who are dealing with this issue for years. Ksenija Radovanovic represented movement called "Ne davimo Beograd", Artan Sadiku was there to represent "Solidarnost" from Skopje and Hajrulla Ceku from movement called "Ec Ma Ndryshe" from Prizren. Although they live in different societies, miles away from each other the goal is the same: they want to eradicate corruption and they have dedicated years of their lives in achieving that.
Ksenija is an architect from Belgrade and she elaborated on how their movement developed into an active one. Belgrade Waterfront development project was announced as a project of "national significance" yet it is shrouded in mystery, first the documentation was unavailable, then the laws had to be changed or altered, and the story about a friend from Emirates really does not seem to be logic or coherent. Then, on the night of elections some people came in the district of Savamala and demolish a building without any urban plan or permission from the authorities. We tried to find out who was responsible, but that was a dead end. We are fighting for over two years and we will not stop until the government stops that project which is clearly a sham. We are not fighting just against government, we are fighting against injustice.
Artan Sadiku spoke about evolution of these movements, how they were leaded by leftist organizations and how gradually NGOs realized that protests are legitimate tools in shaping your society so they joined in because you are not fighting for your own rights, you are fighting because you feel that something is not right, that something need to be changed."Everyday Rebellion" is a concept that has to be created so it can to live on. You don't have to wait for another four years to put your vote in the ballot. You have equal right to vote and to revolt because protest is a legitimate act which every citizen should use to pursue his demands and to claim his rights.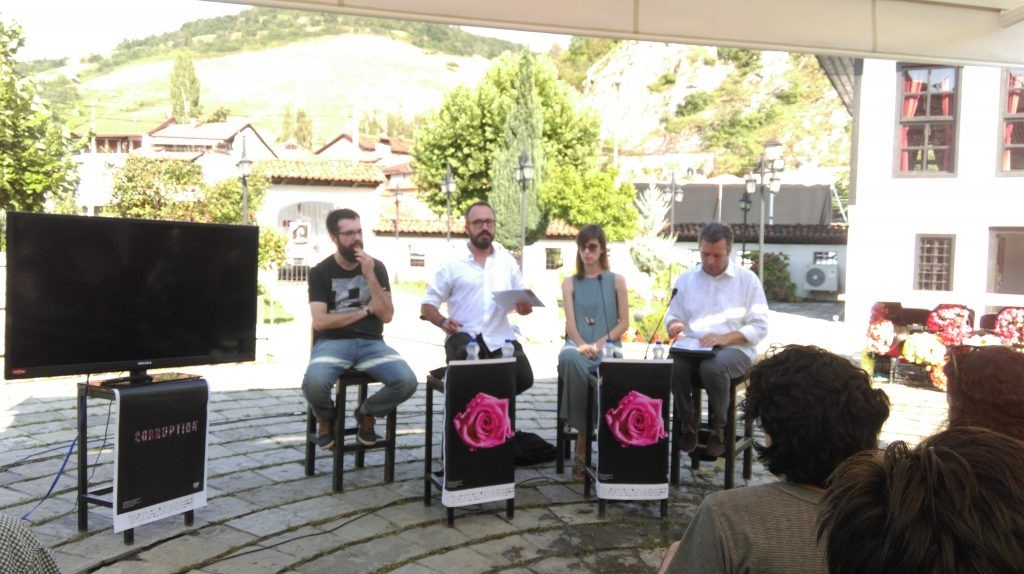 He also commented on Eric Gibson's statement that humans are prone to corruption and said: "Human nature changes by its experience in the system where it lives. We don't have a fixed nature as species." That means that we are not condemned with corruption, that we can overcame it.
Hajrulla Ceku is from Prizren and he mentioned the case which occurred there and it was the case of death of three-year-old girl who lost her life because roof of a building collapsed and fell on her. It was the building which was supposed to be secured by the city authorities and it wasn't. Little girl lost her life due to negligence of the ones in charge. No one took the blame for this accident so we felt that we need to react. People went out on the streets and because it was not a massive protest, media declared that it was futile. After the protest prosecution has begun investigating the negligence of the local authorities concerning this case, and how that protest can be found as a failure. Number of people is not a criterion for success. We need to endure media and government pressure and no matter how much people we can gather we need to activate today so our children will have a tomorrow. We have to create everyday rebellion in order to achieve success. Corruption is systemic so we have to change the system. And how are we supposed to do that? By changing the first thing we can, ourselves.
"Should the world go to hell, or should I go without my tea? I say, let the world go to hell as long as I can always have my tea." (Dostoevsky, Fyodor, Notes from the Underground)
Can we be better than this?
This blog was written by Slobodan Stosic, Communications Intern with UN Kosovo Team