Launch of UN Common Development Plan (UNCDP) 2016- 2020
United Nations Kosovo Team (UNKT) with its agencies, programmes, and funds officially launched the UN Common Development Plan (UNCDP) 2016- 2020 in Kosovo on 18 of November 2015
Mr. Andrew Russell, UNDP Resident Representative and UN Development Coordinator, explained the three-track approach used to draft this document: standard UN consultations with counterparts, a bottom-up consultation with the general population including youth and civil society, and incorporated over 9000 people from Kosovo through interactive means.  The UNCDP includes three main areas: promotion of good governance and rule of law, equitable division of resources and social inclusion, as well as sustainable environment and improvement of health.
Mr. Qemajl Murmullakaj, Head of Office for Strategic Planning in the Prime Minister's Office confirmed Kosovo' government agenda is in full alignment with the UNCDP. He focused particularly on good governance, including a viable and more trustworthy justice system, women's empowerment, as well as engaging our diaspora in economic and social development.
Ms. Valdete Idrizi, Head of CiviKos (platform of over 170 active civil society organisations in Kosovo) stated the need to cooperate with our colleagues from UN agencies in planning for development. She further stressed the importance of utilising systems and activities that are already there. Civil society should not only be a watch dog, but also a constant reminder of the options and possibilities, and offer viable solutions. In order to facilitate the accomplishment of our goals we have established sectorial networks such a Social and Antipoverty Network within CiviKos, etc.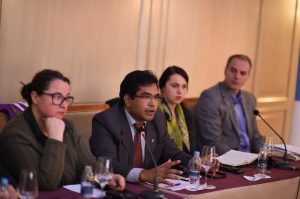 UNHCR (the UN Refugee Agency) Chief of Mission for Kosovo, N. L. Narasimha Rao stated that we must also cosnider migration and refugee flows. Despite no signs of change in Kosovo, we have planned for the possibility of an increased influx of people.
Mr. Skender Syla from WHO reconfirmed the UNCDP is in accord with the needs of Kosovo particularly with regard to sustainable development.
Ms. Flora Macula, Head of UNWOMEN in Kosovo, stated that we have selected priorities crossing between what we can do best and what is needed
Deputy UNDP chief Alessandra Roccasalvo stated our joint plan is realistic and plausible as well as measurable. Acknowledging you can only change what you can measure.
Ms. Laila Omar Gad chief of UNICEF Office in Kosovo, pointed out that the UN has been active for 70 years and therefore has a wealth of experience to draw on to complement the work of institutions in Kosovo.
The Minister of Environment and Special Planning, Mr. Ferid Agani stressed the incorporation and alignment of the UNCDP and Sustainable Development Goals will increase the quality of further cooperation and development.
Ambassador Jean-Claude Schlumberger, Head of OSCE Mission in Kosovo reiterated the importance of the engagement of the Civic Society in the development agenda.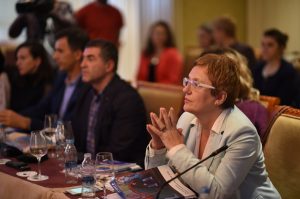 Ms Venera Hajrullahu Head of KSCF, asked for a meeting next year this time to monitor success and implementation.
This event took place on Wednesday, 18th November from 11:00 to 12:30 at the Swiss Diamond Hotel – Artana Hall. This occasion marks the conclusion of an exhaustive process undertaken by the agencies of the UNKT with extensive collaboration with Kosovo Institutions, the International Community, and Civil Society. Coordination and cooperation remains vital.
The results outlined in the UN Common Development Plan are closely tied to the Global Sustainable Development Goals, which were endorsed by world leaders on 26th September and launched here in Kosovo on 24th October, on United Nations Day.
UN Heads of Agencies in Kosovo, as well as High level Kosovo institution representatives, donor community, and civil society were present.